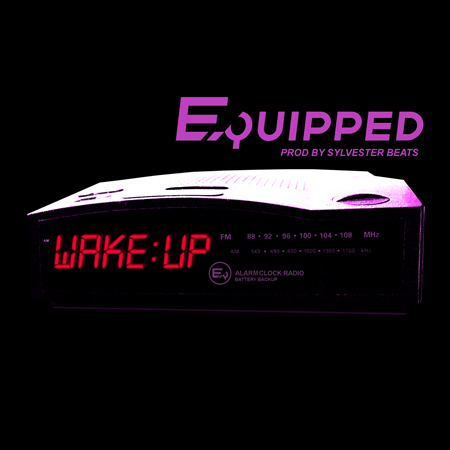 Indie hip-hop artist E.Quipped refuses to be confined to a single genre of music. The Greensboro, NC-based emcee/singer/producer is taking a brief respite from rap music to ready the release of his debut R&B album, which he refers to as a "passion project". The new EP, Minus Love, continues to build upon the themes of hope and love that permeate E.Quipped's previous releases, but focuses more on the relationships between couples, and between mankind in general.
"This album doesn't stray too far away from what people are used to hearing from me, because even my hip-hop projects have each had a very melodic feel to them," explains E.Quipped. "The melodies, harmonies, and singing have always just been supporting cast members…and with this project it's flip-flopped. The rap is supplementary to the R&B."
The first single "Wake Up," follows this pattern, with E.Quipped dedicating the chorus and first verse to singing, and the second verse to rhyming. The slow and sultry song is produced by Sylvester Beats, and is an obvious declaration of affection, desire, and commitment to someone special in the artist's life.
When asked if he would release any more albums dedicated to hip-hop, E.Quipped responded, "Definitely. But I've always been a huge fan of R&B, and this is just what I'm feeling at the moment. You can't second guess inspiration when it hits you, and if you don't jump on it immediately you could miss out. R&B has been my favorite genre of music for as long as I can remember, and it's always been my dream to release a project like this. When I was little I was infatuated with people like Stevie Wonder and Michael Jackson, and in my teens it was all about artists like JODECI, Boyz II Men, Jon B, Dru Hill, Intro, Mint Condition, etc. Today, I get really inspired by guys like Mali Music, Tank, Justin Timberlake, Eric Dawkins, Glenn Lewis, Travis Garland, and Musiq Soulchild. If my music can make somebody feel even half of what I feel when I hear something from those artists, then my job is done."
E.Quipped's debut R&B single "Wake Up" is available on iTunes now, and you can stream it below.
For more info visit, www.getequippedmusic.com and follow him on social media @equippedmusic.