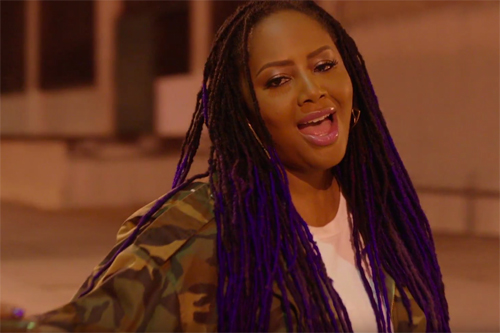 Like many of us, Lalah Hathaway plays just as hard as she works. Piquing our anticipation for her new album, the R&B songstress has released a music video for her bouncy single, "I Can't Wait."  Set within a hype dance party, it's obvious that everyone is having a good time surrounded by red cups, liquor and music. You will instantly wish you got the text to hit this secret location.
Directed by Jay Ahn, the vibrant visuals feature cameos from supermodel Shaun Ross and comedian Affion Crockett. The purple loc'd goddess enjoys her peeps with no worries and gives a glimpse of her alter ego as a DJ. Filled with feel good vibes, "I Can't Wait" is the lead single off Honestly, which is due out this fall on her label, Hathaway Entertainment in partnership with Caroline.
"The behind the scenes short really shows us the power of community," shared Lalah. "The energy created when we all came together for this shoot was infectious! It was a long day but we were all still on our feet until the very end!"
Hathaway recently spoke to ThisisRnB about her inspiration for the single in an exclusive interview.  "The point of ["I Can't Wait"] is not to make you forget what's happening, because you can't forget what's happening. But it is a mode of resistance for me to still be a creative," explained the singer. "Our music is also a protest. I refuse to let anybody steal my joy. It's meant to uplift."
Watch the uplifting "I Can't Wait" video, along with exclusive behind the scenes footage below.
-Words by Raquelle Harris