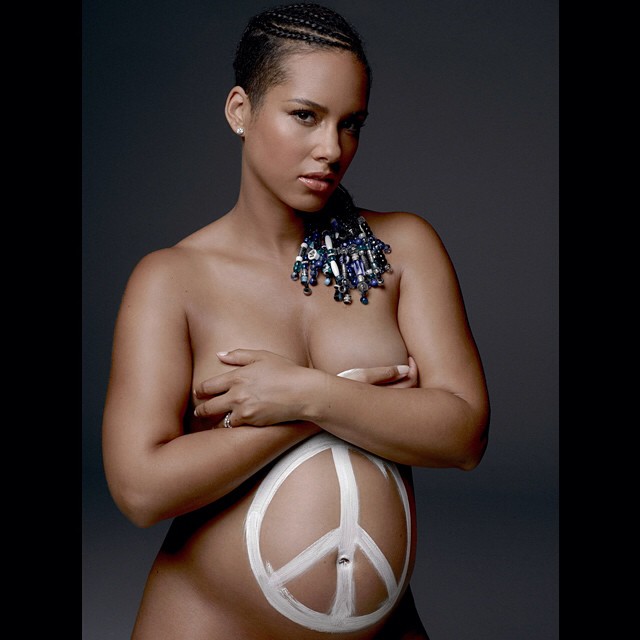 Alicia Keys is expecting her second child in December and she is using her baby bump as a signal of peace. Posing nude with only a white Peace Sign painted on her belly the superstar singer is pushing for more social consciousness with her 'We Are Here' campaign.

Spreading the message with her brand new single of the same name, Keys is hoping to inspire her mass fan following to take their frustration with local and world issues and begin improving the situations. "I want to gather an army," she told the NY Times.
She decided to be photographed nude with a peace sign on her belly as an image of amity to kick off the effort.
"It's time to get people's attention," she said. "People won't be able to ignore this visual."
She plans to kick off the 'We Are Here Movement' today at the Social Good Summit, a grass-roots version of the annual United Nations General Assembly.
Keys says she will encourage her fans to support 12 specific groups: All Out, a gay rights organization; CARE, the aid group; Equal Justice Initiative, which combats racial inequity in the criminal justice system; the Future Project, which empowers high school students in America; Girl Rising, which supports girls' education around the world; Keep a Child Alive, which helps children affected by H.I.V. and AIDS; Moms Rising, which supports universal prekindergarten, maternal leaves and tighter gun laws; Oxfam, which fights global poverty; Partners in Health, which tackles disease worldwide; the Trevor Project, which prevents suicide among gay and lesbian youths; the Trayvon Martin Foundation, which fights racial profiling; and War Child, which supports children in conflict areas.
To get the effort started, Keys is donating $1 million of her own money, to be divided among the 12 groups, and she hopes that her fans will make their own donations directly to the charities. A website, WeAreHereMovement.com, provides information.
The next steps, she says, will include petitions, rallies, protests and public awareness efforts, as well as fund-raising. She also hopes to bring other artists into the effort, and she has already reached out to some.
Alicia also said that many of her songs henceforth will do more to address racism, injustice and poverty; she aspires to be a moral voice as well as a musical one.