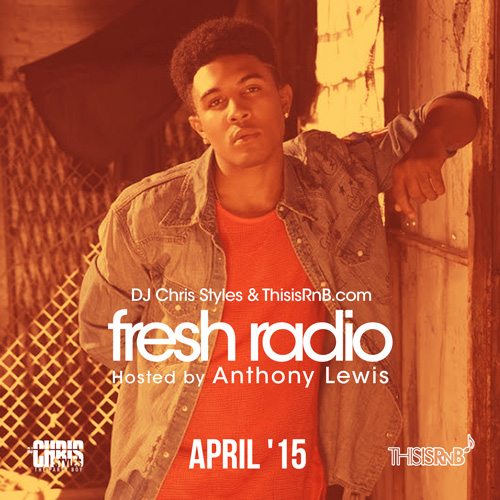 Spring is officially here and what better way to get ready for the warm months than with the new edition of our monthly "Fresh Radio" mixtape with DJ Chris Styles of Sirius XM's 'The Heat.'  This month's mix is hosted by rising singer Anthony Lewis, who has been heating up the charts with his new single "It's Not My Fault."
As always the 60 minute live mix features some of the hottest R&B singles climbing the charts and rockin the clubs right now, including tracks from Trey Songz, Rihanna, Omarion, August Alsina and many more. Plus exclusive interlude breaks from Anthony, who is currently working on his debut album Five Senses, which is coming soon.
Stream the new mix now below!
Tracklist:
01. Anthony Lewis Intro
02. Malachiae Warren feat. TK-N-Cash – Thank Yo Momma
03. Trey Songz – Slow Motion (Dienvy Remix)
04. Wale feat. Kanye West & Ty Dolla $ign – Summer League
05. Ursula feat. Fabolous – Down With Me (Remix)
06. Anthony Lewis Break
07. Anthony Lewis feat. T.I. – It's Not My Fault
08. Jasmine V feat. Problem & Jeremih – One Night
09. Jamie Foxx – PYT
10. Rihanna – Bitch Better Have My Money
11. Anthony Lewis Break
12. Omarion feat. Chris Brown & Jhene Aiko – Post To Be (Dennis Blaze Remix)
13. Maejor – Me & You
14. Sam Dew – Air
15. The Fix – Famous
16. Anthony Lewis Break
17. Anthony Lewis feat. Billy Bang – Candy Rain
18. Ameriie – Out Loud
19. Ludacris feat. Usher – Not Long
20. August Alsina – Hip-Hop
21. Anthony Lewis Break
22. Kayla Briana – Honest
23. Kat Deluna feat. Trey Songz – Bum Bum
24. Lion Babe – Wonder Woman
25. Kehlani feat. BJ The Chicago Kid – Down For You
26. Letoya Luckett feat. T.I. – Don't Make Me Wait (Remix)
27. Anthony Lewis Break
28. Anthony Lewis – Pretty Brown Eyes
29. Janelle Monae feat. Jidenna – Yoga
30. Usher feat. Chris Brown – All Falls Down
31. Jhene Aiko – Living Room Flow
32. Anthony Lewis Outro
DL: DJ Chris Styles & ThisisRnB – 'Fresh Radio' (April '15) (Hosted by Anthony Lewis)