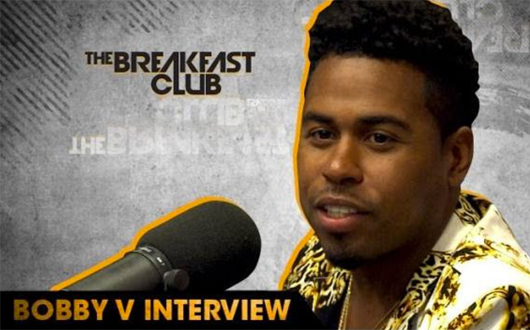 Bobby V is about to re-invent himself, again, and the "The Breakfast Club" got the first scoop on it all.
It's been a while since the Atlanta singer released a new project, about 3 years to be exact, and now he's back with 'Hollywood Hearts.' From his conversation with Charlemagne, Angela Yee, and DJ Envy, he's releasing both an album and the previously teased corresponding full length movie with the same title. Both the album and movie are inspired by each other and will be released Saturday, October 8.
Bobby V brought the director of the Hollywood Hearts film, Tangie B. Moore, with him to the interview to talk about the premiere of the movie on BET this weekend, and what inspired this two-part project. The collaboration between the two of them is loosely based off of his life experiences and shows "like a day in his life." "Everyone wants to know about his personality behind the camera, so the film really captures the lifestyle of a quote on quote rockstar," says Tangie.
All of the music in the film is featured on the 'Hollywood Hearts' album and was created mostly during the filming of the movie. This is Bobby's "rendition of Purple Rain," which is a hard act to follow but we can't wait to see what he's put together!
Check out the interview below.
–Words by Jamila Wright