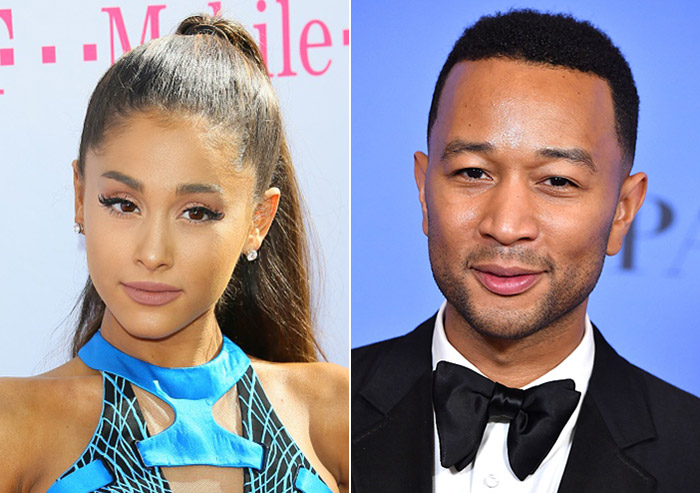 Ariana Grande and John Legend are uniting on a remake of the classic "Beauty and the Beast" title track.
Their collaboration will arrive ahead of the live-action film adaptation of Beauty and the Beast. The soundtrack, which will include three new songs written by Alan Menken and Tim Rice, will be released on Mar. 10, while pre-orders are available now.
The original "Beauty and the Beast" was performed by Celine Dion and Peabo Bryson in 1991 for the classic animated Disney film. Written by Menken and Howard Ashman, it earned an Academy Award, a Golden Globe, and two Grammys.
Legend and Grande's sequel will be produced by Ron Fair and its music video will be directed by Dave Meyers, best known for his work with Janet Jackson, Britney Spears, Missy Elliott, Katy Perry, and Ice Cube.
Just Announced: @ArianaGrande & @johnlegend will sing "Beauty and the Beast" for the live-action adaptation. More: https://t.co/lSvLLKLaYV pic.twitter.com/CHWEO0C9lU

— Beauty and the Beast (@beourguest) January 12, 2017
"Stepping into the shoes of an Oscar and Grammy Award-winning classic is not small potatoes," said Fair (via ABC News). "But with today's two greatest plutonium [sic] singers — John Legend and Ariana Grande — we are bringing the song back with a new school-old school fresh treatment that shows the soulfulness and power of what a great melody and lyric can inspire."
The live-adaptation of Beauty and the Beast stars Emma Watson as Belle and Dan Stevens as the Beast. It's slated to hit theaters Mar. 17.