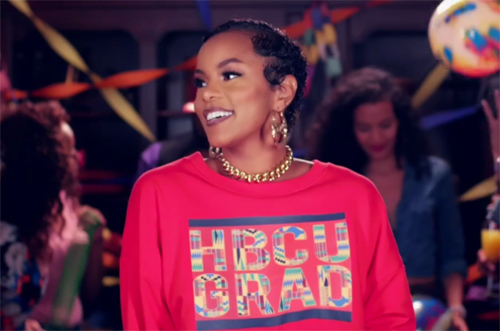 Letoya Luckett proves that love might still exist.
With the release of the visuals for "In the Name of Love," the Grammy Award winner finally answers our questions about her relationship with Omar. The 12-minutue video is the third and final installment in her mini-movie series from her comeback album, Back 2 Life.
In the video, the Houston native finds herself trying to forgive the wrongs done by her ex, as the pair attempt to rekindle a flame that fizzled out after a mistake Omar made.
Forced to choose between two beautiful women, he throws a '90s themed party with the soundtrack to the night being "In The Name of Love." Omar makes sure to put his best foot forward, hoping that Letoya will see that he's changed.
Once the party is over, Omar pops the big question after laying it all out there, and telling her how he truly feels. Letoya's left with deciding between staying with him or leaving him for good. What does she choose?
Check out the video below to find out.
In addition to unveiling her new visual, LeToya is set to join Mary J. Blige on several upcoming dates of the iconic singer's "Strength of a Woman Tour," starting on Aug. 1 in Detroit, followed by Aug. 8 in Atlanta, and finally Sept. 2 in Los Angeles.
In addition to returning to music, LeToya has been honing her craft as an actress with recurring roles in the former FOX drama "Rosewood" alongside Morris Chestnut, and OWN's hit series "Greenleaf" alongside Oprah Winfrey, Lynn Whitfield and Keith David, with a mid-season return in August 2017. At the Cannes Film Festival, it was announced that LeToya will play the legendary Dionne Warwick in a new biopic aptly titled Dionne.
–Words by Jamila Wright