Breakout Canadian crooner Daniel Caesar gave fans everything they were patiently waiting for with his acclaimed debut album, Freudian.
The 10-track project was preceded by the single "Get You," and featured appearances from some of his musical friends and peers including Kali Uchis, Syd (of The Internet), H.E.R., and Charlotte Day Wilson.
After releasing a string of critically-acclaimed EPs, including his 2014 breakout project Praise Break, the singer-songwriter stated that this project is absolutely his strongest work to date. "I've never been as proud about anything I've created in my whole life," he told The FADER.
Last year we were introduced to the mysterious, H.E.R., and this year we just solidified how much we love her after the release of her official self-titled album, which combined her first EP along with a double dose of new projects, H.E.R., Vol. 2 and Vol. 2 The B-Sides. Whether, you just love, love, or you enjoy a great singer who doesn't mind being vulnerable, you probably became a fan of this young lady in 2017.
The follow-up to her debut 2016 EP felt like both a continuation and a response to all the songs that had us begging for more from H.E.R. Whether the sultry "Every Kind of Way" was more your mood, or "Changes" finally gave you the courage to say how you really feel, the singer delivered a body of work that felt like the definitive millennial diary of 2017.
Easily making this list with a debut so great, everyone and their mama's were singing her praises, SZA finally made a profound mark on the world with her music. Ctrl transitioned TDE's leading lady from a girl that just makes cool mixtapes, to a young woman who's sense of self is strong and who's voice is distinct and dominant.
Outside of the major success of her two singles, "Love Galore" and "The Weekend," some stand out tracks on her debut album were "Supermodel," "Go Gina" and "20 Something." Each of these songs showcase Solana's honest lyrics and vulnerability in a way that's refreshing to hear from someone that's still figuring it out just like the rest of us.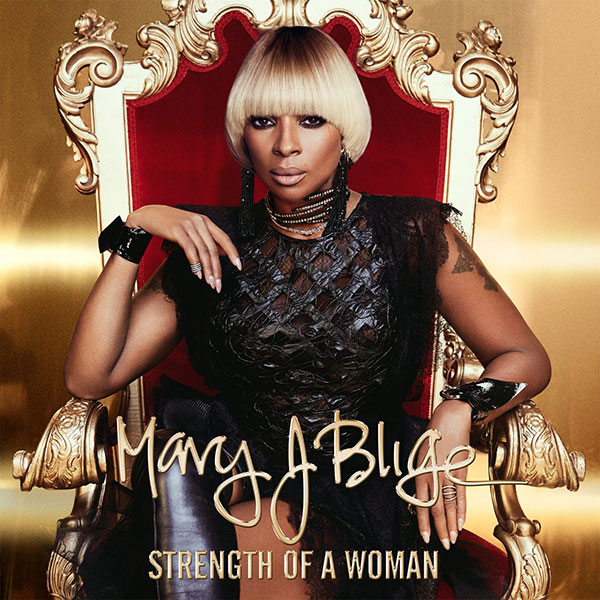 01. Mary J. Blige – Strength of a Woman
Coming in with a strong lead at #1 on this poll, Mary J. Blige once again reigned supreme in 2017. The Queen of R&B blessed us this year with her 13th studio album Strength of a Woman, and honestly, this new and improved Mary is better and stronger than ever before.
Her honesty throughout the album answered any questions about where she's been and what she's been through. With live instrumentation in almost every track, and some huge features from the likes of Kanye West, Missy Elliott and KAYTRANADA, this album brought the Queen into 2017 with a bang.
We recommend "Thick of It," "U + Me (Love Lesson)," and the title track "Strength of a Woman" to really get a true essence of the raw energy Mary brought to this album.
Some of our additional honorable mentions are below.
K. Michelle – KIMBERLY: The People I Used to Know
1-O.A.K. – Riding In Cars with Girls