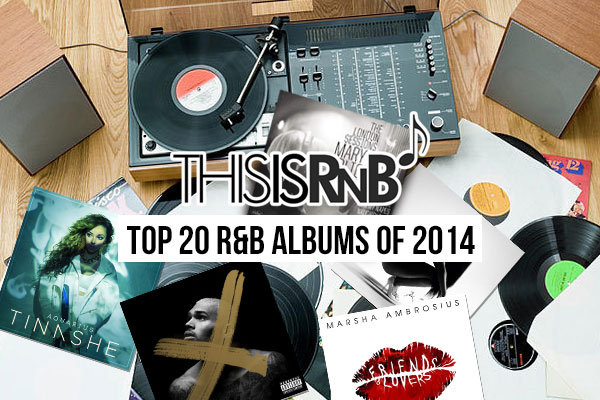 Better late than never right?? 2014 may be over and done, but that doesn't mean we can't bask in it a bit more. While the year brought about many disappointments and frustrations, it also brought with it a few blessings in the form of R&B.
Whether you were waiting on your favorite artist to drop another album, or you were introduced to the sounds of someone different, there's no denying the talent that moved through our ears and speakers last year. From Mary J. Blige's commendable trip across the pond to K. Michelle's anticipated sophomore effort to Chris Brown yet again finding favor in the hearts of many for his music, some damn good audible treats surfaced during 2014.
Although the above may be true, unfortunately some artists didn't receive the shine that they deserved for their obviously noted underrated albums. That however, has never stopped us from giving them their well-deserved props and doing our part to help everyone discover their greatness.
So, even if you preferred to be "Dancing In The Dark" over getting "2 On," there's no way that anyone can say that this past year didn't help with moving R&B back to the top of the charts! Gone are the days of R&B being looked at as "tarnished," "washed," or "unappreciated," because there were truly some classic and timeless pieces of art dropped throughout last year.
So, without further adieu, give yourself one more look back with "The 20 Best R&B Albums of 2014" below!
#20. Omarion – 'Sex Playlist'
Former boy band member Omarion dropped his first album in 4 years in 2014 and just in case you missed it, it was one of his best. Aptly titled Sex Playlist, the singer made sure that everyone was getting the goods when listening to this one. While he spent the latter portion of his year starring as one of the cast members on the west coast installment of "Love & Hip-Hop," that didn't stop him from pushing out impressive singles.
Although he previously released the songs "Work" and "You Like It," it wasn't until the premiere of his Chris Brown and Jhené Aiko featured single "Post To Be," that fans were amped up for the release of the new album. Setting the tone for preparation, "Post To Be" would only be the starting point of what Omarion was bringing with this project.
With singles such as "Show Me" featuring Jeremih, and tantalizing songs "The Only One" and "Steam," Omarion takes us on a journey through love making and bed shaking with each track. Also calling on the biggest boss that you've seen thus far, Rick Ross, and brilliant artist James Fauntleroy to supply their talent to the 13-track project, O delivered a solid album that certainly serves its purpose. – K.P.