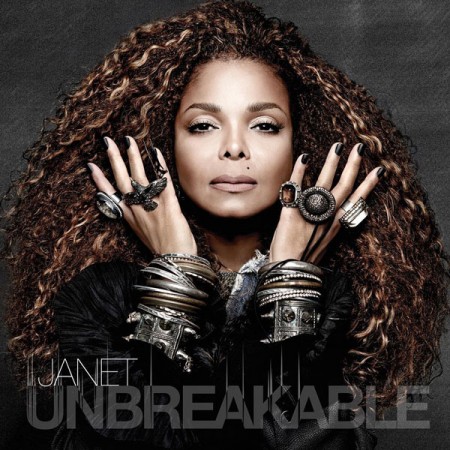 08. Janet Jackson – Unbreakable
Janet Jackson gave us our entire life this past summer when she emerged from her seven-year hiatus. Upon the release of Unbreakable, her eleventh studio album, it was clear that her spellbinding aura was missed. The Queen of Pop's seventh number one album includes elements of pop, hip-hop, rock and electronic. It is Janet's inaugural release from her independently owned Rhythm Nation label. True to her signature style, Ms. Jackson proves that she can still seamlessly mix nasty with sweet; she is simultaneously titillating and tender. Listeners are treated to a consummate collection of energetic dance grooves, sultry ballads, thumping club anthems, and sincere soliloquies.
The reignited collaboration with her longtime and legendary, production team, Jimmy Jam and Terry Lewis, showcases Janet's ability to vacillate between delicate maiden, to sultry vixen, and socially conscious songbird. Although older brother Michael's spirit is clearly infused within the album's production and sound, some of the tracks are reminiscent of Janet from the 90s and early 2000s, proving how and why she remains relevant with Generation X and Millennials.
Janet opens Unbreakable with the touching title track on which she jubilantly promises faithful fans, "Our love is divine and it's unbreakable." Wasting no time, she reminds us that she is the ultimate dance diva on the Missy Elliott assisted, "Burn It Up," the grind worthy, "Dammn Baby," and the carefree, "Night." Janet serves audacious self-love on "The Great Forever," tempered by honest, soul baring insight on "Should've Known Better" and "After You Fall." Her tribute to MJ, "Broken Hearts Heal" is nostalgic and upbeat. She drops gems of inspiration as she sings, "Broken hearts heal stronger. Broken hearts last longer."
Classic Janet is conjured on seductive grooves, like "No Sleeep" (complemented by rapper J. Cole), and "Dream Maker/Euphoria," on which she coos like a dove over a sedate old school R&B jam. Forever a proponent of love and positivity, Janet closes Unbreakable by boldly reassuring us that we "Gon B' Alright."
Janet's "Unbreakable" tour is temporarily postponed until spring while she undergoes surgery. We here at ThisisRnB, wish her a speedy recovery. In the meantime, pick up the Unbreakable album from retail stores and digital retailers. – Raquelle Harris