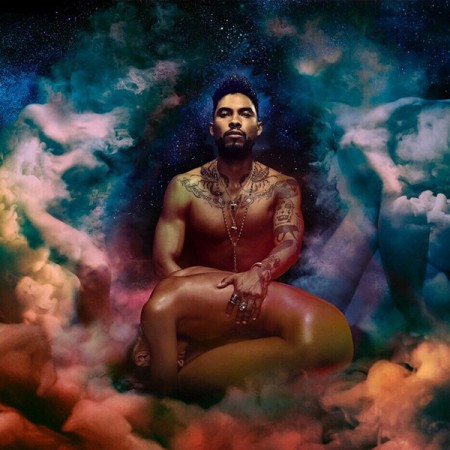 14. Miguel – Wildheart
Miguel's third studio album was one of the most anticipated releases of the year.  Following his stunning sophomore LP, Kaleidoscope Dream, the R&B Maverick (as we like to call him) had some big sultry R&B lothario shoes to fill, thanks to his classic single "Adorn," and bedroom luring album cuts. An early 3 song teaser EP, including the single "Coffee," "NWA," and "Hollywood Dreams" fittingly followed suit advancing the singers R&B star presence.  But, Miguel had something way different planned as the album, titled Wildheart, plays out more like a southern California rockers dream, than the newest contemporary crooner experimenting with some electric guitar for sex appeal.
No, Miguel is a full on rock star, more D'Angelo than Mick Jagger, but we're pretty sure he's studied some of Mick's kicks too.  Certainly his most daring project to date, the set was clearly created from a mind state of fighting labels, and society norms.  If you didn't catch any of his live shows surrounding the album's release or footage from them, than you missed his mini rants on the purpose of the album, but poignant track "what's normal anyway" can summarize.
"Too proper for the black kids, too black for the Mexicans, too square to be a hood nigga, what's normal anyway? / I never feel like I belong, I wanna feel like I belong," he sings about his state of mind as a youth growing up in SoCal between multiple cultures. It's this questioning that Miguel hopes to kill off in society, or at the very least add some self-confidence to those in need. This socially conscious narrative doesn't remove Miguel's affinity for lust anthems though, and the album delivers plenty of erotica, as one would assume from the cover art.  Specifically the aptly titled "The Valley" pays homage to the capital of the porn industry with a X-rated psychedelic sex romp.  The 80s tinged "waves" is a clear high point and an injection of adrenaline like Miguel (playing The Outlaw) and his bad boy loving girlfriend just popped pills for a pleasure bound round 2.  Wildheart may have caught fans by surprise, but if our artists can't do that every so often to push the genre forward, than what is artistry anyways? We're still standing in Miguel's corner, fringed white leather jacket and all. – Jamie Wexler