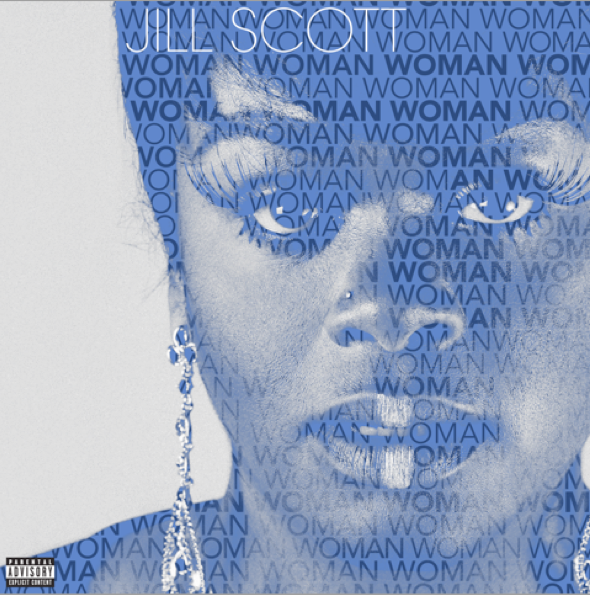 13. Jill Scott – Woman
Jill Scott's fifth studio album, Woman perfectly describes our experiences with the struggles and triumphs of life and love. More than just an addition to your playlist, it is an epiphany; an experience that you've unknowingly awaited. As Jill delves deep into themes surrounding love/lust, motherhood, and self-realization, she delivers straight up real talk, deriving strength from her vulnerability, boldly raw. Her soul baring spoken word, bluesy proclamations and rhythmic melodies create a cathartic consciousness.
After 15 years in the game, the poet, singer, songwriter, actress, and label owner, remains true to her roots while cultivating seeds of evolution. She is a chameleon who transitions like a gazelle from one medium to the next. Jill credits her elders for empowering her to fully embody and envision herself as a woman, physically, spiritually, mentally and emotionally.
Although Jill has become a jack of other trades, thank the musical gods that, "Music still feels like home to me." And at home is exactly how you feel when you listen to her lush vibrato. The three time Grammy winner is passionate about giving us authentic music and in order to maintain the potency of her Black Girl Magic, Jill formed her own label, Blues Babe Records. Woman is her second consecutive number 1 album on the label. Executive produced by Jill and Andre' Harris, it also features production from Aaron Pearce.
The tracks on Woman are a direct reflection of its namesake's complexity. On "Wild Cookie," Jill tells us that carnality is an ever present struggle. Yet, she is taking steps to improve, because she desires to be "Prepared." Her voice is indeed an instrument itself, as she powerfully trills over the boisterous big band sound of "Run Run Run" and "Coming To You." Sublime R&B grooves like "Can't Wait," "Lighthouse," and "Cruisin'" create a mellow mood. Fierce and flawed, Jill is possessive and protective all at once, she is a modern day Billie Holiday and Ella Fitzgerald. The album's first single, "You Don't Know" exposes the bare skin of submission to love's hypnotic hold, while "Fool's Gold" shines light on Jill's awareness of her naiveté. Moving past the strife, "Back Together" is a poignant and serene ode to redemption. While "Jahraymecofasola" and "Beautiful Love" emit unconditional love and pure devotion; BJ The Chicago Kid accompanies Jill on the latter.
Despite its focus on sista girl memoirs, Woman transcends the boundaries of gender and relationships making it one of the year's best. – Raquelle Harris