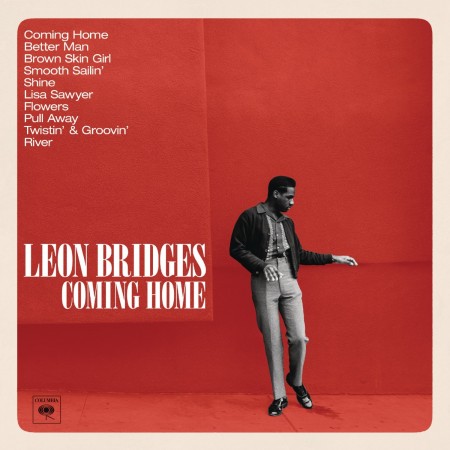 02. Leon Bridges – Coming Home
Imagine that you're seated in a Happy Days-esque diner. You're relaxing, enjoying your meal, the jukebox pops on and a tender but, strong masculine voice floats out into the atmosphere. You close your eyes and start bopping your head and think, "They're playing some sho' nuff old school jams up in here." Except, this jam isn't from an old school cat, it's from a new school cool who is the modern day incarnation of traditional soul. 25-year-old Fort Worth, Texas native, Leon Bridges has managed to replicate that retro soul sound. Dubbing himself as "southern soul," the singer, songwriter and musician's debut album, Coming Home, is a welcome rarity in today's R&B and one of best albums of 2015.
Fully recorded in analog, with live instruments, Coming Home was released this past summer by Columbia records. It embodies the essential elements of traditional R&B: soul, jazz, gospel and blues. Although Leon is ubiquitously compared to Sam Cooke, he grew up listening to 90s R&B. It took him a few years to discover and pursue his innate calling as a soul singer. Unbothered by the hype surrounding fame and fortune, Leon's main focus is on giving listeners an authentic and genuine sound. To complement his sound, Leon's vintage look and mannerisms mimic the soul singers from the golden era of the 1950s and 1960s. Leon has said that Coming Home is based on gospel, love, heartbreak and family. He composed it with collaboration from Austin Jenkins and Josh Block, members of the rock band, White Denim.
The album's sound is raw and invigorating with uninhibited passion. On the title track, Leon earnestly sings about "Coming Home," away from a world that has left a bitter taste in his mouth. He reveals his vulnerability and need to change on "Better Man" and "River." While "Lisa Sawyer" and "Twistin' and Groovin'" are reverent odes to his mother and grandparents. Showing that he's not just about ballads, Leon kicks it up a notch with the flirtatious "Smooth Sailin'" and the edgy "Flowers." Leon's introspective lyrics paint a vivid picture of desire and redemption; his metaphorical charm exudes confidence, not arrogance.
Leon brought 2015 home by earning a Grammy nomination for Best R&B Album. – Raquelle Harris